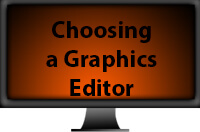 As I travel through this IM journey to riches (someday) it soon became apparent that I was lacking in both graphic design experience and the tools required to do the job.  The design is less of a problem in that you can see what others have done and adapt for your own content.  There are plenty of ready-made templates and covers out there, both free and chargeable, but do you really want a 'me-too' image that someone else has implemented?
Ok, so you need to create your own images.
I looked at my daughters Photoshop package and watched her quickly prep an image for me – Wow that was quick – but all those keyboard shortcuts – I'm a mouse man!  I decided I needed to learn Photoshop, so I watched a few YouTube videos and then downloaded a short video course (free).
Another Wow, all those graphic design terms – my head was spinning – I just wanted to point and click!  The video sessions were very short, I thought I could absorb 3-5min chunks easily – I gave up!
I decided that all I really needed was something simple – quick bam slam – done, so I tried a few low priced packages.  My first attempt was a desktop package marketed for creating logos.  You could set the overall image size (i.e. Facebook cover) add a background, icons and text then upload images on top if required.  All went well until I saved the file only to find that the image size was not what I expected.  The menu structure and route to changing content items was not as simple as I wanted.  It produced results but I wasn't impressed.
My next trial was an online package with lots more features and this had templates already set up for Facebook and Google.  It was a free version I received with some other purchase and I decided not to get the upgrade on it.  I watched the tutorial, but the speaker's accent was not easy for me to fully understand but I got through it. Ok let's power up this thing and create a Facebook cover – I waited and waited, the 'loading' message blinking at me….  Maybe I aborted this too quickly, but I was looking for something that was quick and easy.
So I thought about it and decided to search for another Photoshop tutorial and have another go.  If you're going to spend time and money on something you would be best to get something that will stand the test of time, be supported and have ongoing development.  Well I did find one and I'm very happy with it although still ploughing through the fundamentals section.  On reflection, this training had what I was looking for as a novice.  The training takes you step by step with examples so you could go and try it yourself.  There are those keyboard shortcuts but I'm slowly getting the hang of them.  Plenty of features (that I may never use) but I got satisfaction after creating my first (un-aided) Facebook cover.
The moral of the story – if a jobs worth doing it's worth doing well.